If you have a parent recently diagnosed with Alzheimer's disease or dementia, you may be feeling overwhelmed and distraught. You may have questions about the care options available, and whether you can care for your parents at home as their condition progresses.
Remaining at home can be beneficial for someone in the early stages of memory loss, but it's essential to consider the future, and your next steps as the disease progresses.
At Polar Ridge Senior Living, we believe that staying at home does not always define aging in place. Aging in place means respecting our loved one's quality of life, choices, and personal wellbeing.
Commitment to Caring
Caring for a parent with Alzheimer's or dementia at home requires tremendous commitment and strategic planning. There are several factors to consider, like:
Your parent's wellbeing: Consider their quality of life, and try to determine if your parent will receive the required support and care while living at home with memory loss.
Your wellbeing: Fatigue and burnout are realities that caregivers face daily. Will you be able to give yourself breaks, and enough time to focus on your own wellbeing?
Opportunities to socialize: Will friends and family participate in your Mother or Father's daily routines, stay in touch, and attend activities?
A daily routine: Patients with Alzheimer's or dementia need a steady routine; this helps them feel calm and in control of their day and environment.
Challenging behavior: As memory loss progresses, it can result in sleep disturbances, agitation, and delusions. It's essential to prepare for these types of behaviors in advance.
Safety: Can you create a comfortable and safe environment within the home? Remember their living space will require additional support as their condition progresses.
Financials: You'll want to investigate the costs involved for Alzheimer's or dementia supports in your area. Take an in-depth look into finances, and plan for the cost of caring for your parents at home.
Additional Supports
Depending on your area, several supports may be available to families caring for loved ones with Alzheimer's or dementia at home. Some of these supports may be free community-based services, and others will be available as a paid service.
Additional supports could include:
Meals: Your community may offer a free meal delivery program for seniors, or consider taking advantage of a paid meal delivery service to help ease the burden of cooking and cleaning.
Groceries: Consider purchasing groceries online and having them delivered, or picking them up at the store. You could also look into hiring a personal shopper that delivers groceries to your door.
Personal care: Helping hands for heavier tasks like dressing, mobility, and personal hygiene.
Home maintenance: Look to hire additional help for house cleaning, home and yard maintenance, and laundry services.
Home health aides: Aides may be available as part of a paid service or covered by insurance or Medicaid.
Geriatric Care Managers: These trained professionals help create a care plan for your parents with memory loss. Care managers are paid out-of-pocket, and work on your behalf to find the support and services needed to keep your family comfortable.
A Progressive Condition
With proper support in place, your parents with Alzheimer's or dementia may be able to spend many years and happy moments with your family at home.
In the condition's early stages, changes to cognitive abilities and behaviors may be slight or minimal. However, as the disease progresses, you may notice some developing risks to you and your loved one's wellbeing and safety.
Pay close attention to these signs:
Poor Physical Health
Your parents with Alzheimer's or dementia may begin to neglect their health as the condition progresses. Watch closely for signs of:
Poor hygiene
Lack of nutrition
Unexplained injuries
Frequent accidents or mishaps
Poor medication management
Challenging Dementia Behaviors
Alzheimer's and dementia can significantly alter your parent's personality, resulting in challenging behavior, like:
Social anxiety
Forgetfulness
Irritability
Frustration
Increasingly withdrawn
Agitation
Delusions
Hallucinations
Safety & Risks
Alzheimer's and dementia causes forgetfulness, balance issues, and the ability to judge distances. This disorientation can result in dangerous situations and injuries for your parents, and those who share their home.
Caregiver Fatigue
Caring for a parent with memory loss can be difficult, sad, and overwhelming. Caregivers often neglect themselves and their own needs to support their loved ones. It's easy to burn out, become irritable, and forget happier moments from the past.
If you are caring for a parent with memory loss and have noticed one or a number of these signs, you may want to consider making the transition to a memory care communities.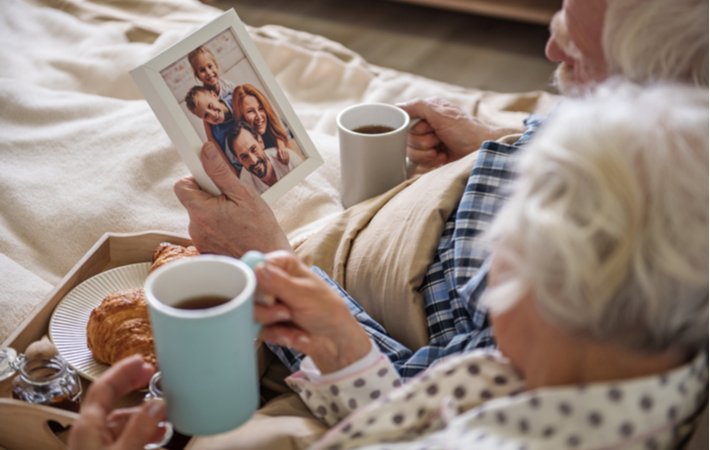 Memory Care
If you are caring for a parent with Alzheimer's disease or dementia, you may have already heard about the benefits of memory care; these communities provide a home and 24-hour care for individuals with memory loss.
Memory care neighborhoods offer personalized and safe care in an environment specially designed for those with Alzheimer's or dementia. These units can help provide a fresher start by offering additional cognitive support by professionals trained in memory care.
Here if You Need Us
Contact our fantastic and knowledgeable team at Polar Ridge Senior Living if you're caring for a loved one with Alzheimer's disease or dementia and require additional information or support.
We're passionate about senior living and memory care, and are always willing to help!